Canceled
PA - Harrisburg - (COED INDOOR) Monday/Wednesday WINTER 2016 League Kickball · Co-Ed Social League
Canceled
Mon
Tue
Wed
ThuFriSatSun
between 6:45pm and 9:45pm
Kickball365 League - Modified Social Rulebook
Team Fees

Regular

$60.00

per player
Free Agent Fees

Regular

$60.00
Questions? Email us at harrisburg@kickball365.com

Join the group here to keep up on news, pics, video and more:

Get Ready for Something New. Tons of Action on a Smaller Field!

Guidelines for 2016 Coed Indoor League
-SPACE IS LIMITED TO THE FIRST 8 TEAMS THAT SIGN UP! (TO SECURE YOUR TEAM SPOT YOU MUST HAVE AT LEAST 6 PLAYERS FULLY REGISTERED AND PAID) DON'T DELAY
Modified Rules for 2016 Indoor Coed Season
-6 player defense 3 girls minimum
-2 bounce minimum pitching and GIRL ONLY pitcher
-7 innings or 45 minute games-No new innings start after 40 minutes
-No bunt line for male or female kickers
-Kicks hitting the ceiling are an OUT
-Catching a ball off the net/wall is an OUT
-Registration includes 6 weeks of regular season games and playoffs for top 8 teams. Also included is a league jersey and specials at our sponsor bar Arooga's 39 before and after games within walking distance.
-Players can register as free agents, small groups or as a full team
Game Schedule:
Feb 15th (Monday)- 730pm, 815pm, 900pm and 945pm
Feb 22nd (Monday)- 730pm, 815pm, 900pm and 945pm
Mar 2nd (Wednesday)- 730pm, 815pm, 900pm and 945pm
Mar 9th (Wednesday)- 730pm, 815pm, 900pm and 945pm
Mar 16th (Wednesday)- 645pm, 730pm, 815pm and 900pm
Mar 23rd (Wednesday)- 645pm, 730pm, 815pm and 900pm
Playoffs
Mar 30th (Wednesday)- 645pm, 730pm, 815pm and 900pm
April 6th (Wednesday)- 645pm, 730pm and 815pm (Final 4/Championship/ Trophy Awarded)
Field Location: Sports City: 4141 Linglestown Road, Harrisburg, Pa 17112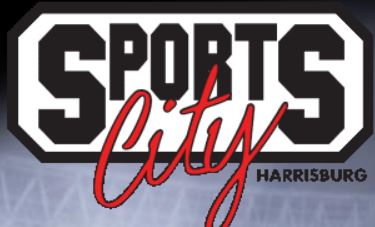 Sponsor Bar: Arooga's Route 39: 4301 Linglestown Road, Harrisburg, Pa 17112